A Year to Remember: Taking a Look Back at Our Top 10 Blogs of 2020
Look, we all know that things won't immediately change once the clock hits midnight on December 31. Still, it's hard not to think that something in the air will be different, with a new Presidential administration and the rollout of multiple COVID-19 vaccines in the offing. Whatever new condition the world eases itself into in 2021, it's hard to imagine it'd be any more challenging than the Job-like series of trials presented by 2020 (now please, help us find the biggest piece of wood in the world on which to knock.)
Here at Film Independent, 2020 was a year of trial, error and ultimately incredible growth. While struggling—like many organizations and individuals—to stay afloat this year as lockdowns and bad news took their psychological and economic tolls, Film Independent was nevertheless able to reach a wider swath of filmmakers and film lovers than ever before, taking our wares exclusive online and communing with Members and Fellows all over the nation and the world. Just check out our year-end Impact Report.
And of course, we couldn't have done it with you and the support of our community, as you continued to engage with our content and programming in unprecedented numbers, not to mention lending us your (tax-deductible) financial support when we've needed it the most. So here now is a look back at some of our most memorable blogs of 2020.
Thank you again—and Happy New Year!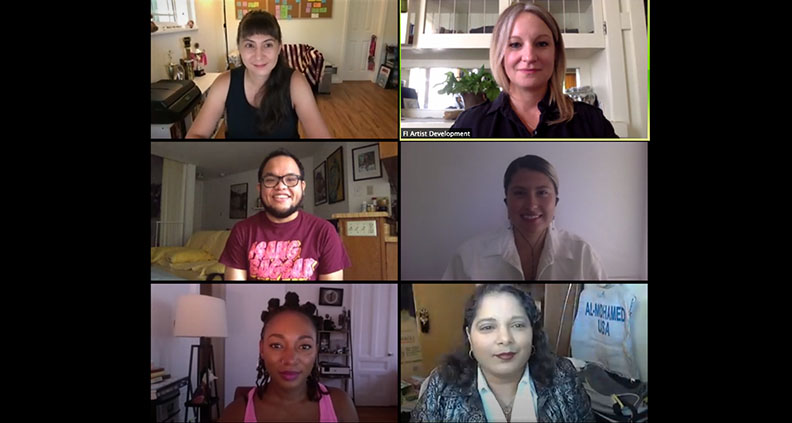 Start Your Own Producers' Group
The pandemic has indeed made it hard for people to connect. For creatives in the entertainment industry, it's imperative that we're there for each other. In this guest post from Rachel Nederveld—part of our ongoing spotlight of content from producer and Fi creative advisor Rebecca Green's Dear Producer website—the up-and-coming indie producer specifically talked about how to start your own Producers group, but the steps are applicable for any sort of creative community. Nederveld also includes a draft email template for us to send out invitations for the group. So: who'll be on your list?
Still ❤ Beirut
The August 4 explosion that shook Beirut, Lebanon to its core was one of the most shockingly tragic events in a year not lacking for shocking and tragic events. In the wake of the city's devastation, four Lebanese Global Media Makers Fellows were asked to make short films chronicling the aftermath of the blast and celebrating the city's indomitable spirit: Zeina Badran, Amin Dora, Mira Shaib and Jana Wehbe. The shorts—available on our YouTube channel—were debuted alongside a thoughtful guest post from Beirut natives (and Film Independent staffers) Louay Khraish and Sam Shaib.
What a Location Manager Does… and Why You Need One
Blogger Meri Hilalian demystifies the role of the Location Manager and emphasizes the job's importance within the workflow of film production. With the announcement of multiple vaccines on the way to combat COVID-19, studios are eager to begin shooting again—extensively. And for our scrappy little independent film community, it's essential for us to be far ahead of the game when it comes to creative problem-solving. This blog helps us understand the road (and building, and private residence) ahead once the script is locked, actors are cast and the crew is ready to get back to work.
Media Access Awards on the Move
Each year the Media Access Awards, presented by Easterseals, seek to recognize and honor the most multi-faceted, inclusive and accurate representations of the disabled community in film and TV. And, like all awards shows taking place March 14 onwards, the 2020 MAAs took place virtually this year—though they were no less fun or inspiring. Prior to the November 19 ceremony, Fi interviewed host-to-be (and Dancing with the Stars alum) Nyle DiMarco about the gig, his work within the deaf community and the progression of disability representation, inclusion and accommodation in Hollywood. Also, be sure to check out our Disability Inclusion Summit on YouTube.
Ten Films to Watch When You Want to Feel Hopeful
2020 was a difficult year. In times of trouble, movies are often used as an escape. But others are designed to edify us about social issues and inspire us to try to change our reality. This piece—first published four years ago, the day after the 2016 Presidential Election, revived and revised just at COVID was hitting—lists 10 encouraging movies to inspire awe, empathy and action. From Do the Right Thing to The Tree of Life, a wide range of themes were represented; seeing these characters on screen battling through various aspects of life gives us strength and hope.
Protest and Power
In the wake of Black Lives Matter protests that followed in the wake of the May 25 murder of George Floyd by the Minneapolis Police Department, we thought it would be appropriate—if not sorely overdue—to look back as some of the vital black stories of the past few decades, as told through the art of cinema. Both documentaries and fictional narratives were included, though truth was a common element among all. Titles included: Crime + Punishment, I am Not Your Negro, Hidden Figures, The Hate U Give, 13th, The Black Power Mixtape 1967-1975, Selma and LA 92.
Anatomy of a Great Film Score: 'Psycho'
In the special Halloween re-post from Aaron Gilmartin's regular Know the Score, the composer and Fi blogger talks about the concept of doing more with less. Both Alfred Hitchcock and his audience worked with less in the infamous shower scene in 1960's Psycho. Hitchcock didn't have enough of a budget for the film, so he made it so that just the sight of a dark stain in water petrified the audience. A big part of what makes this minimalist visual approach work? Bernard Herrmann's unforgettable score, which Gilmartin deconstructs in detail.
Remembering Lynn Shelton
Look, 2020 fucking sucked. Why beat around the bush? What else can you say about a year that included everything we've already mentioned as well as the tragic, surprise passing of indie film iconoclast, Film Independent friend and all-around great human being Lynn Shelton in early May? Shelton, only 54, had in fact just recently appeared at Film Independent's Directors Close-Up in January, while Fi blogger David Bax had penned an appreciation of the filmmaker's work as recently as January 17. Said Film Independent President Josh Welsh: "Lynn was such a beautiful filmmaker, telling stories that were human, funny, sad, moving, and unforgettable."
Stephen Mao on the Responsibilities of a Creative Producer
This year, we launched our new Member Spotlight blog series to begin highlighting just how incredible our Film Independent Member community really is. One of the earliest subjects was Arts Circle Member and Studio Mao (The Kindergarten Teacher) founder Stephen Mao, who shared with us his definition of Creative Producer: "Someone who handles everything from the acquisition of the film to the development to the pre-production, production and post-production—all the way up to the sale of the film." This blog is must-read for all the aspiring producers out there.
Finally… some relief.
Well before there was an actual vaccine on the horizon, a little bit of good news came the film world's way thanks to Film Independent's Emergency Filmmaker Support Fund, which offered grants ranging from $500 to $5,000 to Film Independent Fellows whose livelihoods were disproportionately effected by the COVID-19 pandemic. This, in addition to our round-up of Emergency Relief Funds—compiled by Fi's Artist Development department—available to filmmakers, performers and storytellers in need.
Film Independent promotes unique independent voices by helping filmmakers create and advance new work—in 2020 and every other year. If you want to help support us and all that we do to help support visual storytellers worldwide, now's the time.
All donations made through December are tax-deductible for the year 2020. Interested in becoming a more involved part of our community? Become a Member of Film Independent here and check out our slate of programs here.
Keep up with Film Independent…